Cleaning ventilator grille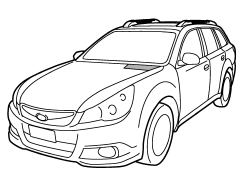 Always keep the front ventilator inlet grille free of snow, leaves, or other obstructions to ensure efficient heating and defrosting. Since the condenser is located in front of the radiator, this area should be kept clean because cooling performance is impaired by any accumulation of insects and leaves on the condenser.
See also:
Preparing to drive
You should perform the following checks and adjustments every day before you start driving. 1. Check that all windows, mirrors, and lights are clean and unobstructed. 2. Check the appearance and c ...
To decrease the speed (by the УRES/SETФ switch)
Press the УRES/SETФ switch to the УSETФ side and hold it until the vehicle reaches the desired speed. Then, release the switch. The vehicle speed at that moment will be memorized and treated as ...
Tire pressure monitoring system (TPMS) (U.S.-spec. models)
The tire pressure monitoring system provides the driver with a warning message by sending a signal from a sensor that is installed in each wheel when tire pressure is severely low. The tire pr ...