A/C – Air conditioner button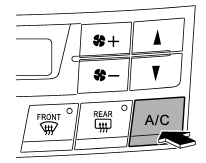 If the windshield starts to fog when the climate control system is operated in the AUTO mode, press the air conditioner button "A/C" to defog and dehumidify. When this button is pressed, the air conditioner compressor turns on and the indicator light "A/C" on the display illuminates.
To turn off the air conditioner compressor, press the "A/C" button again.
NOTE
The air conditioner compressor does not operate when the outside air temperature is below 328F (08C).
See also:
Recommended grade and viscosity
Each oil manufacturer has its own base oils and additives. Never use different brands together. For details, refer to "Manual transmission, front differential and rear differential gear oil". ...
MMT
Some gasoline contains an octane-enhancing additive called MMT (Methylcyclopentadienyl Manganese Tricarbonyl). If you use such fuels, your emission control system performance may deteriorate and t ...
Shift lock release using the shift lock release button
Perform the following procedure to release the shift lock. 1. Apply the parking brake and stop the engine. 2. Remove the shift lock cover using a flat-head screwdriver. The shift lock rele ...