A/C – Air conditioner button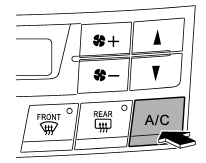 If the windshield starts to fog when the climate control system is operated in the AUTO mode, press the air conditioner button "A/C" to defog and dehumidify. When this button is pressed, the air conditioner compressor turns on and the indicator light "A/C" on the display illuminates.
To turn off the air conditioner compressor, press the "A/C" button again.
NOTE
The air conditioner compressor does not operate when the outside air temperature is below 328F (08C).
See also:
Cooling and dehumidifying in high humidity and low temperature weather condition
Under certain weather conditions (high relative humidity, low temperatures, etc.) a small amount of water vapor emission from the air outlets may be noticed. This condition is normal and does not ...
To increase the speed (by accelerator pedal)
1. Depress the accelerator pedal to accelerate the vehicle to the desired speed. 2. Press the "RES/SET" switch to the "SET" side once. Now the desired speed is set and the vehicle will keep running ...
Ventilation
Ventilation To force outside air through the instrument panel outlets: 1. Set the air inlet selection button to the OFF position. 2. Set the airflow control dial to the "" position. 3. ...