OFF button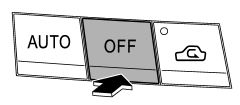 The automatic climate control system turns off (the air conditioner compressor and fan turn off) when the "OFF" button is pressed.
When the "OFF" button is pressed, the outside air circulation mode (air inlet selection OFF) is automatically selected.
See also:
Types of tires
You should be familiar with type of tires present on your vehicle. ...
Use of engine braking
Remember to make use of engine braking in addition to foot braking. When descending a grade, if only the foot brake is used, the brakes may start working improperly because of brake fluid overheat ...
PTY (Program type) group tuning (only FM reception)
Press the "PTY/CAT" button to change to the PTY selection mode. At this time, the PTY group that you are currently listening to will be displayed for 10 seconds. In PTY selection mode, "PTY SEL" ...