AUTO button
FULL AUTO mode operation: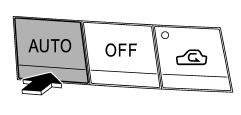 When the "AUTO" button is pressed, the indicator light "FULL AUTO" on the display illuminates. In this state, fan speed, airflow distribution, air-inlet control, and air conditioner compressor operation are automatically controlled.
AUTO mode operation:
If you operate any of the buttons on the control panel other than the "OFF" button, rear window defogger button and temperature control buttons during FULL AUTO mode operation, the indicator light "FULL" on the control panel will turn off and the indicator light "AUTO" will remain illuminated. You can then manually control the system as desired using the button you operated. To change the system back to the FULL AUTO mode, press the "AUTO" button.
See also:
Fuse panel located in the passenger compartment
...
Head restraint adjustment
Both the rear window side seats and the rear center seat are equipped with head restraints. • Never drive the vehicle with the head restraints removed because they are designed to reduce the risk ...
Compass zone adjustment
Compass calibration zones 1. Refer to the "Compass calibration zones" map shown above to verify that the compass zone setting is correct for your geographical location. 2. Press and hold the com ...