Illumination brightness control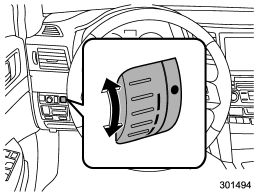 The illumination brightness of the clock display, audio, air conditioner, multi function display and meter/gauge dims under the following conditions.
● when the light switch is in the " " or " " position
● when the light switch is in the "AUTO" position and the headlights illuminate automatically
You can adjust the illumination brightness for better visibility.
To brighten, turn the control dial upward.
To darken, turn the control dial downward.
NOTE
● When the control dial is turned fully upward, the illumination brightness becomes the maximum and the automatic dimming function does not work at all.
● The brightness setting is not canceled even when the ignition switch is turned to the "LOCK" position.
See also:
Unlocking the phonebook
1. Select the "PHBK UNLOCK"/"PHONEBOOK UNLOCK" menu. Then "CURRENT PIN?" is displayed. NOTE If the phonebook is not locked, "UNLOCK" is displayed and the mode changes to the security mode. ...
Compass calibration
1. If a "C" is displayed in the compass window, the compass needs to be calibrated. 2. Drive the vehicle in a circle at 5 mph (8 km/h) or less until the display reads a direction. 3. You can also ca ...
Off road driving
WARNING ● Always maintain a safe driving speed according to the road and weather conditions in order to avoid having an accident on a sharp turn, during sudden braking or under other simila ...