Turn signal lever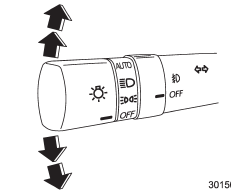 To activate the right turn signal, push the turn signal lever up. To activate the left turn signal, push the turn signal lever down. When the turn is finished, the lever will return automatically. If the lever does not return after cornering, return the lever to the neutral position by hand.
To signal a lane change, push the turn signal lever up or down slightly and hold it during the lane change. The turn signal indicator lights will flash in the direction of the turn or lane change. The lever will return automatically to the neutral position when you release it.
See also:
2011 Subaru Impreza WRX STi review By Scott Burgess
We all play favorites. Is that why we have elections? Or is it just for the commercials? In the automotive world, car buyers play favorites as well ∔ weighing the pros and cons of differ ...
Registering by phone
1. Select the "PHONE BOOK" menu. 2. Select the "ADD ENTRY" menu. 3. Select the "BY PHONE" menu. 4. Select the "CONFIRM" menu. Then "TRANSFER" is displayed. 5. Transfer the data from the cell phone ...
ABS system self-check
You may feel a slight shock in the brake pedal and hear the operating sound of ABS from the engine compartment just after the vehicle is started. This is caused by an automatic functional test of ...