Average fuel consumption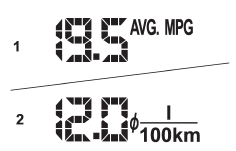 1) U.S.-spec. models
2) Except U.S.-spec. models
This indication shows the average rate of fuel consumption since the trip meter was last reset.
Pressing the trip knob toggles the indication between the average fuel consumption corresponding to the A trip meter indication and the average fuel consumption corresponding to the B trip meter indication.
When either of the trip meter indications is reset, the corresponding average fuel consumption value is also reset.
NOTE
● The indicated values vary in accordance with changes in the vehicle's running conditions. Also, the indicated values may differ slightly from the actual values and should thus be treated only as a guide.
● When either trip meter indication is reset, the average fuel consumption corresponding to that trip meter indication is not shown until the vehicle has subsequently covered a distance of 1 mile (or 1 km).
See also:
To set cruise control
1. Push the "CRUISE" main switch button. Type A Type B The cruise control indicator light on the combination meter will illuminate. 2. Depress the accelerator pedal until the vehic ...
Braking when a tire is punctured
Do not depress the brake pedal suddenly when a tire is punctured. This could cause a loss of control of the vehicle. Keep driving straight ahead while gradually reducing speed. Then slowly pull of ...
Maximum allowable speeds
The following table shows the maximum speeds that are possible with each different gear. The tachometer's needle will enter the red area if these speeds are exceeded. With the exception of cases wher ...