START
CAUTION
Do not turn the ignition switch to the "START" position while the engine is running.
The engine is started in this position. The starter cranks the engine to start it. When the key is released (after the engine has started), the key automatically returns to the "ON" position.
If the engine does not start with your registered key, pull out the key once (at this time, the security indicator light will blink), wait for at least 10 seconds, reinsert the key in the ignition switch and then try to start the engine again.
NOTE
The engine may not start in the following cases: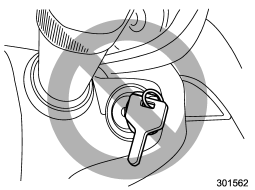 ● The key grip is touching another key or a metallic key holder.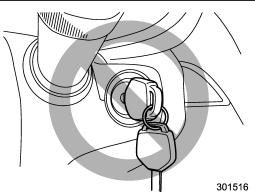 ● The key is near another key that contains an immobilizer transponder.
● The key is near or touching another transmitter.
See also:
Tires
Never tow a trailer when the temporary spare tire is used. The temporary spare tire is not designed to sustain the towing load. Use of the temporary spare tire when towing can result in ...
Seatbelt maintenance
To clean the seatbelts, use a mild soap and lukewarm water. Never bleach or dye the belts because this could seriously affect their strength. Inspect the seatbelts and attachments including t ...
Rear wiper
To turn the rear wiper on, turn the knob on the end of the wiper control lever upward to the "INT" or "ON" position. To turn the wiper off, return the knob on the end of the lever to the "OFF" pos ...