Driver's side power window switches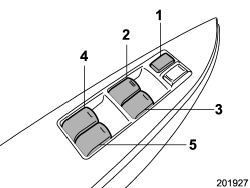 1) Lock switch
2) For driver's window
3) For front passenger's window 4) For rear left passenger's window 5) For rear right passenger's window
All door windows can be controlled by the power window switch cluster at the driver side door.
See also:
Keys
1) Master key 2) Submaster key 3) Valet key 4) Key number plate 5) Security ID plate Three types of keys are provided for your vehicle: Master key, submaster key and valet key. The master key ...
Tether anchorage location
Legacy Three tether anchorages are installed on the rear shelf behind the rear seat head restraint. Open the cover flap to use each anchorage. Three tether anchorages, i.e., ones for the right, ...
Two separate circuits
Your vehicle has two separate circuit brake systems. Each circuit works diagonally across the vehicle. If one circuit of the brake system should fail, the other half of the system still works. If one ...