Driver's side power window switches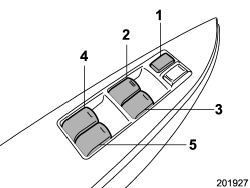 1) Lock switch
2) For driver's window
3) For front passenger's window 4) For rear left passenger's window 5) For rear right passenger's window
All door windows can be controlled by the power window switch cluster at the driver side door.
See also:
Checking the brake pedal reserve distance
1) More than 2.56 in (65 mm) Depress the pedal with a force of approximately 66 lbf (294 N, 30 kgf) and measure the distance between the upper surface of the pedal pad and the floor. When the me ...
While climbing a grade
When driving up a hill, undesired upshift to 4th gear is prevented from taking place when the accelerator is released. This minimizes the chance of subsequent downshifting to a lower gear when ...
Defrosting or defogging the windshield
Defrosting or defogging the windshield To direct warm air to the windshield and front door windows: 1. Set the airflow control dial to the "" position. 2. Turn the temperature control dial all the ...