Replacing the battery
CAUTION
● Do not let dust, oil or water get on or in the transmitter when replacing the battery.
● Be careful not to damage the printed circuit board in the transmitter when replacing the battery.
● Be careful not to allow children to touch the battery and any removed parts; children could swallow them.
● There is a danger of explosion if an incorrect replacement battery is used. Replace only with the same or equivalent type of battery.
● Batteries should not be exposed to excessive heat such as sunshine, fire or the like.
If the transmitter fails to operate when used within the standard distance, this may indicate a weak battery. Replace the battery as soon as possible. The battery can be replaced by your authorized SUBARU dealer. If you replace the battery by yourself, use utmost care that no dust, oil or water enters the transmitter.
To replace the battery: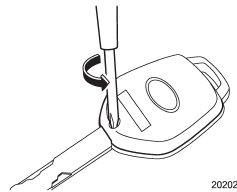 1. Remove the screw on the key head.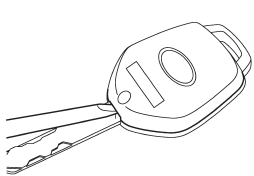 2. Open the key head using a flat-head screwdriver.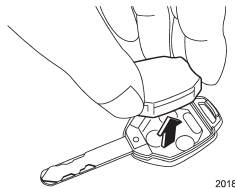 3. Remove the transmitter case from the key head.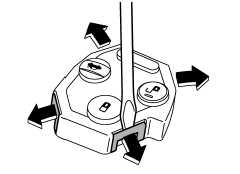 4. Open the transmitter case by releasing the hooks.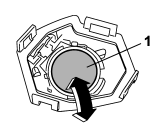 1) Negative (−) side facing up
5. Replace the old battery with a new battery (Type CR1620 or equivalent) making sure to install the new battery with the negative (−) side facing up.
6. Put together the transmitter case by fitting the hooks on the case.
7. Reinstall the transmitter case in the key head.
8. Reinstall the screw on the key head.
After the battery is replaced, the transmitter must be synchronized with the remote keyless entry system's control unit. Press either the "

"
or "

" button six times to synchronize
the unit.
See also:
Selecting preset stations
Presetting a station with a preset button allows you to select that station in a single operation. Up to six AM, FM1, FM2 and FM3 stations each may be preset. ...
To increase the speed (by accelerator pedal)
1. Depress the accelerator pedal to accelerate the vehicle to the desired speed. 2. Press the "RES/SET" switch to the "SET" side once. Now the desired speed is set and the vehicle will keep running ...
California Perchlorate Advisory
Certain vehicle components such as airbag modules, seatbelt pretensioners and keyless entry transmitter batteries may contain perchlorate material. Special handling may apply for service or ve ...