Locking and unlocking from the inside
WARNING
Keep all doors locked when you drive, especially when small children are in your vehicle.
Along with the proper use of seatbelts and child restraints, locking the doors reduces the chance of being thrown out of the vehicle in an accident.
It also helps prevent passengers from falling out by preventing a door from being accidentally opened, and intruders from unexpectedly opening doors and entering your vehicle.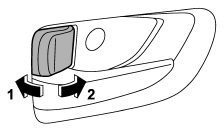 1) Lock
2) Unlock
To lock the door from the inside, rotate the lock lever rearward. To unlock the door from the inside, rotate the lock lever forward.
The red mark on the lock lever appears when the door is unlocked. Pull the inside door handle to open an unlocked door.
Always make sure that all doors and the rear gate (Outback) are closed before starting to drive.
See also:
Pre-heating or pre-cooling the interior of the vehicle
Before exiting the vehicle, set the temperature controls to the desired setting and operation. After the system starts the vehicle, the heater or air-conditioning will activate and heat or coo ...
SRS airbag (Supplemental Restraint System airbag)
*SRS: This stands for supplemental restraint system. This name is used because the airbag system supplements the vehicle's seatbelts. Your vehicle is equipped with a crash sensing and diagnos ...
Spark plugs
It may be difficult to replace the spark plugs. It is recommended that you have the spark plugs replaced by your SUBARU dealer. The spark plugs should be replaced according to the maintenance ...