Keys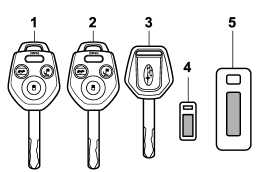 1) Master key
2) Submaster key
3) Valet key
4) Key number plate
5) Security ID plate
Three types of keys are provided for your vehicle:
Master key, submaster key and valet key. The master key and submaster key fit all locks on your vehicle.
● Ignition switch ● Driver's door
● Glove box
● Trunk lid (Legacy)
The valet key fits only the ignition switch and door locks. You can keep the trunk and glove box locked when you leave your vehicle and valet key at a parking facility.
CAUTION
Do not attach a large key holder or key case to either key. If it bangs against your knees while you are driving, it could turn the ignition switch from the "ON" position to the "Acc" or "LOCK" position, thereby stopping the engine.
See also:
Spark plugs
It may be difficult to replace the spark plugs. It is recommended that you have the spark plugs replaced by your SUBARU dealer. The spark plugs should be replaced according to the maintenance sched ...
Hill start assist system (MT models)
Ensure that the Hill start assist system operates properly under the following circumstances: 1. Stop the vehicle on an uphill grade by depressing the brake pedal and clutch pedal, with the ...
Front seatbelts
1. Adjust the seat position: Driver's seat: Adjust the seatback to the upright position. Move the seat as far from the steering wheel as practical while still maintaining full vehicle control. Fr ...