Keys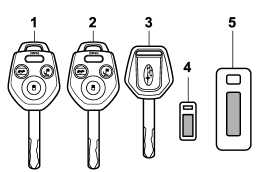 1) Master key
2) Submaster key
3) Valet key
4) Key number plate
5) Security ID plate
Three types of keys are provided for your vehicle:
Master key, submaster key and valet key. The master key and submaster key fit all locks on your vehicle.
● Ignition switch ● Driver's door
● Glove box
● Trunk lid (Legacy)
The valet key fits only the ignition switch and door locks. You can keep the trunk and glove box locked when you leave your vehicle and valet key at a parking facility.
CAUTION
Do not attach a large key holder or key case to either key. If it bangs against your knees while you are driving, it could turn the ignition switch from the "ON" position to the "Acc" or "LOCK" position, thereby stopping the engine.
See also:
Recommended fluid
Refer to "Fluids". ...
Road surface freeze warning indication
1) U.S.-spec. models 2) Except U.S.-spec. models When the outside temperature drops to 378F (38C) or lower, the temperature indication flashes to show that the road surface may be frozen. If th ...
Viewing range on the screen
Range of view Range of view Image from camera The area from the rear end of the bumper can be viewed. Areas at both ends of the bumper and areas just under the bumper cannot be vi ...