Keys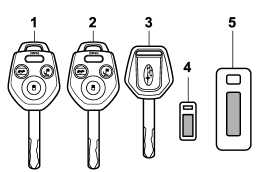 1) Master key
2) Submaster key
3) Valet key
4) Key number plate
5) Security ID plate
Three types of keys are provided for your vehicle:
Master key, submaster key and valet key. The master key and submaster key fit all locks on your vehicle.
● Ignition switch ● Driver's door
● Glove box
● Trunk lid (Legacy)
The valet key fits only the ignition switch and door locks. You can keep the trunk and glove box locked when you leave your vehicle and valet key at a parking facility.
CAUTION
Do not attach a large key holder or key case to either key. If it bangs against your knees while you are driving, it could turn the ignition switch from the "ON" position to the "Acc" or "LOCK" position, thereby stopping the engine.
See also:
Selecting preset channels
Presetting a channel with a preset button allows you to select that channel in a single operation. Up to six SAT1, SAT2 and SAT3 channels each may be preset. ...
Seek in PTY (Program type) group
Type A and B audio Type C audio In the PTY selection mode, when the desired PTY group has been selected, pressing the "SEEK" button "" or "" seeks within that PTY group. Pressing "" seeks up. Press ...
Emergency disarming
If you cannot disarm the system using the transmitter (i.e. the transmitter is lost, broken or the transmitter battery is too weak), you can disarm the system without using the transmitter. The s ...