Front seatbelt pretensioners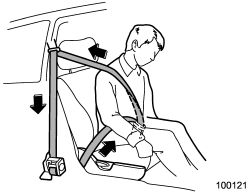 The driver's and front passenger's seatbelts have a seatbelt pretensioner. The seatbelt pretensioners are designed to be activated in the event of an accident involving a moderate to severe frontal collision.
The pretensioner sensor also serves as a SRS frontal airbag sensor. If the sensor detects a certain predetermined amount of force during a frontal collision, the front seatbelt is quickly drawn back in by the retractor to take up the slack so that the belt more effectively restrains the front seat occupant.
When a seatbelt pretensioner is activated, an operating noise will be heard and a small amount of smoke will be released. These occurrences are normal and not harmful. This smoke does not indicate a fire in the vehicle.
Once the seatbelt pretensioner has been activated, the seatbelt retractor remains locked. Consequently, the seatbelt cannot be pulled out and retracted and therefore must be replaced.
NOTE
● Seatbelt pretensioners are not designed to activate in minor frontal impacts, in side or rear impacts or in roll-over accidents.
● The driver's seat and passenger's seat pretensioners and frontal airbag operate simultaneously.
● Pretensioners are designed to function on a one-time-only basis. In the event that a pretensioner is activated, both the driver's and front passenger's seatbelt retractor assemblies must be replaced and only by an authorized SUBARU dealer. When replacing seatbelt retractor assemblies, use only genuine SUBARU parts.
● If either front seatbelt does not retract or cannot be pulled out due to a malfunction or activation of the pretensioner, contact your SUBARU dealer as soon as possible.
● If the front seatbelt retractor assembly or surrounding area has been damaged, contact your SUBARU dealer as soon as possible.
● When you sell your vehicle, we urge you to explain to the buyer that it has seatbelt pretensioners by alerting the buyer to the contents of this section.
WARNING
● To obtain maximum protection, occupants should sit in an upright position with their seatbelts properly fastened. Refer to "Seatbelts" F1-12.
● Do not modify, remove or strike the front seatbelt retractor assemblies or surrounding area. This could result in accidental activation of the seatbelt pretensioners or could make the system inoperative, possibly resulting in serious injury. Seatbelt pretensioners have no user-serviceable parts. For required servicing of front seatbelt retractors equipped with seatbelt pretensioners, see your nearest SUBARU dealer.
● When discarding front seatbelt retractor assemblies or scrapping the entire vehicle due to collision damage or for other reasons, consult your SUBARU dealer.
See also:
How to jump start
1. Make sure the booster battery is 12 volts and the negative terminal is grounded. 2. If the booster battery is in another vehicle, do not let the two vehicles touch. 3. Turn off all unnecessary li ...
Tire replacement
The wheels and tires are important and integral parts of your vehicle's design; they cannot be changed arbitrarily. The tires fitted as standard equipment are optimally matched to the characte ...
Auxiliary input jack (if equipped)
1) Models without Hands-free system 2) Models with Hands-free system By connecting a commercial audio product to the vehicle, such as a portable audio player, you can hear its sound via the ...