Unfastening the rear center seatbelt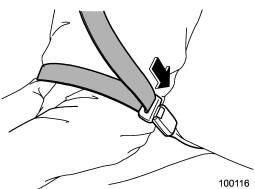 Push the release button of the center seatbelt buckle (on the left-hand side) to unfasten the seatbelt.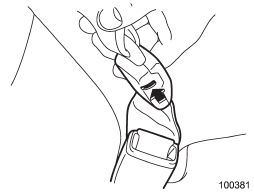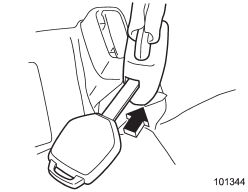 1. Insert a key or other hard pointed object into the slot in the connector (buckle) on the right-hand side and push it in, and the connector (tongue) plate will disconnect from the buckle.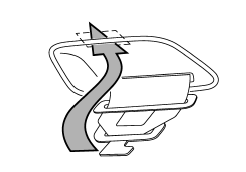 2. Allow the retractor to roll up the belt. You should hold the webbing end and guide it back into the retractor while it is rolling up. Neatly store the tongue plate in the recess and then insert the connector (tongue) plate into the slot.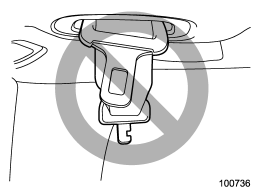 CAUTION
● Do not allow the retractor to roll up the seatbelt too quickly. Otherwise, the metal tongue plates may hit against the trim, resulting in damaged trim.
● Have the seatbelt fully rolled up so that the tongue plates are neatly stored. A hanging tongue plate can swing and hit against the trim during driving, causing damage to the trim.
See also:
When checking or servicing in the engine compartment while the engine is running
A running engine can be dangerous. Keep your fingers, hands, clothing, hair and tools away from the cooling fan, belts and any other moving engine parts. Removing rings, watches and ties is advis ...
Driving tips for AWD models
All-Wheel Drive distributes the engine power to all four wheels. AWD models provide better traction when driving on slippery, wet or snow-covered roads and when moving out of mud, dirt and ...
Choosing a child restraint system
Choose a child restraint system that is appropriate for the child's age and size (weight and height) in order to provide the child with proper protection. The child restraint system should meet ...