Unfastening the rear center seatbelt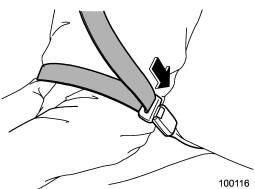 Push the release button of the center seatbelt buckle (on the left-hand side) to unfasten the seatbelt.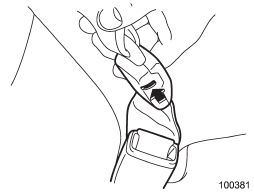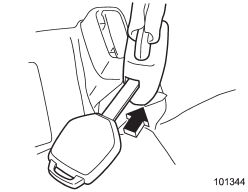 1. Insert a key or other hard pointed object into the slot in the connector (buckle) on the right-hand side and push it in, and the connector (tongue) plate will disconnect from the buckle.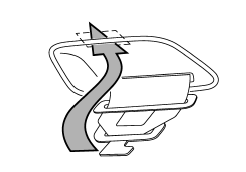 2. Allow the retractor to roll up the belt. You should hold the webbing end and guide it back into the retractor while it is rolling up. Neatly store the tongue plate in the recess and then insert the connector (tongue) plate into the slot.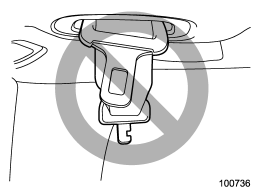 CAUTION
● Do not allow the retractor to roll up the seatbelt too quickly. Otherwise, the metal tongue plates may hit against the trim, resulting in damaged trim.
● Have the seatbelt fully rolled up so that the tongue plates are neatly stored. A hanging tongue plate can swing and hit against the trim during driving, causing damage to the trim.
See also:
Windshield wiper blade rubber
1) Support 1. Grasp the locked end of the blade rubber assembly and pull it firmly until the stoppers on the rubber are free of the support. 1) Metal spines 2. If the new blade rubber is not ...
Brake pedal
Check the brake pedal free play and reserve distance according to the maintenance schedule in the "Warranty and Maintenance Booklet". ...
AUTO button
FULL AUTO mode operation: When the "AUTO" button is pressed, the indicator light "FULL AUTO" on the display illuminates. In this state, fan speed, airflow distribution, air-inlet control, and ...