4-door models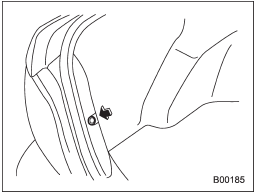 1. Remove the clip from the rear trunk trim with a screwdriver.
2. Open the rear portion of the side trunk trim panel.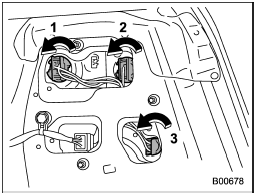 1) Brake/tail and rear side marker light
2) Rear turn signal light
3) Back-up light
3. Remove the bulb socket from the rear combination light assembly by turning it counterclockwise.
4. Pull the bulb out of the bulb socket and replace it with a new one.
5. Set the bulb socket into the rear combination light assembly and turn it clockwise until it locks.
6. Secure the rear trunk trim panel with the clips.
See also:
Washing
• When washing the vehicle, the brakes may get wet. As a result, the brake stopping distance will be longer. To dry the brakes, drive the vehicle at a safe speed while lightly depressing the brake ...
Cruise control
Cruise control enables you to maintain a constant vehicle speed without holding your foot on the accelerator pedal and it is operative when the vehicle speed is 25 mph (40 km/h) or more. Make ...
Defrosting or defogging the windshield
To direct warm air to the windshield and front door windows: 1. Set the air inlet selection button to the OFF position. 2. Press the "" button. 3. Turn the temperature control dial all the way to t ...