4-door models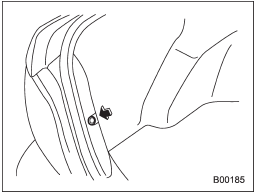 1. Remove the clip from the rear trunk trim with a screwdriver.
2. Open the rear portion of the side trunk trim panel.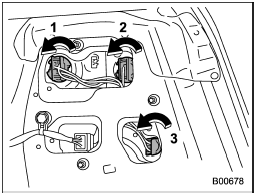 1) Brake/tail and rear side marker light
2) Rear turn signal light
3) Back-up light
3. Remove the bulb socket from the rear combination light assembly by turning it counterclockwise.
4. Pull the bulb out of the bulb socket and replace it with a new one.
5. Set the bulb socket into the rear combination light assembly and turn it clockwise until it locks.
6. Secure the rear trunk trim panel with the clips.
See also:
Towing with all wheels on the ground
1. Release the parking brake and put the transmission in the "N"/neutral position. 2. The ignition switch should be in the "Acc" position while the vehicle is being towed. 3. Take up slack in the ...
Feature of distance marker
1) 3 feet (1 m) line 2) 6.5 feet (2 m) line 3) 10 feet (3 m) line The distance marker shows the distance on the road. If there is a car or other object close behind, distance cannot be co ...
Selecting phone
To select the registered cell phone for connecting to the in-vehicle equipment, perform the following procedure. 1. Select the "SELECT PHONE" menu. If no cell phones are registered, "EMPTY" is ...