Fuses

Never replace a fuse with one having a higher rating or with material other than a fuse because serious damage or a fire could result.
The fuses are designed to melt during an overload to prevent damage to the wiring harness and electrical equipment. The fuses are located in two fuse boxes.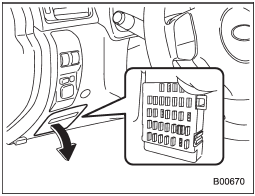 One is located under the instrument panel behind the fuse box cover on the driver's seat side. To remove the cover, pull it out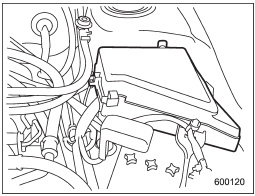 The other one is housed in the engine compartment.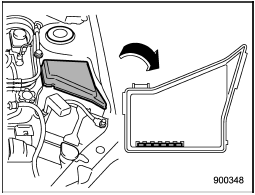 The spare fuses are stored in the main fuse box cover in the engine compartment.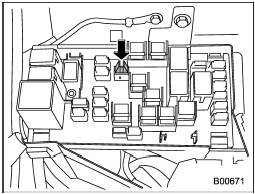 The fuse puller is stored in the main fuse box in the engine compartment.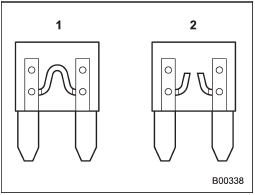 1) Good
2) Blown
If any lights, accessories or other electrical controls do not operate, inspect the corresponding fuse. If a fuse has blown, replace it.
1. Turn the ignition switch to the "LOCK" position and turn off all electrical accessories.
2. Remove the cover.
3. Determine which fuse may be blown.
Look at the back side of each fuse box cover and refer to "Fuses and circuits".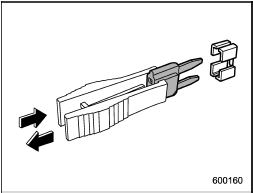 4. Pull out the fuse with the fuse puller.
5. Inspect the fuse. If it has blown, replace it with a spare fuse of the same rating.
6. If the same fuse blows again, this indicates that its system has a problem.
Contact your SUBARU dealer for repairs.
See also:
Checking air conditioning system before summer season
Check the air conditioner unit for refrigerant leaks, hose conditions, and proper operation each spring. Have the air conditioning system checked by your SUBARU dealer. ...
Non-turbo models
1) Connector 2) Clip 3) Clamp 4) Air intake boot 5) Clip 1. Unplug the connector that is attached to the top of the air cleaner case. 2. Detach the connector cable from the clip on the right s ...
On-road and off-road driving
This vehicle is classified as a utility vehicle. Utility vehicles have a significantly higher rollover rate than other types of vehicles. Your vehicle has a higher ground clearance and higher ...