Fuses

Never replace a fuse with one having a higher rating or with material other than a fuse because serious damage or a fire could result.
The fuses are designed to melt during an overload to prevent damage to the wiring harness and electrical equipment. The fuses are located in two fuse boxes.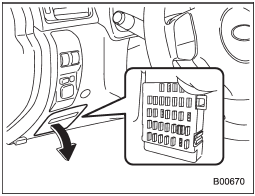 One is located under the instrument panel behind the fuse box cover on the driver's seat side. To remove the cover, pull it out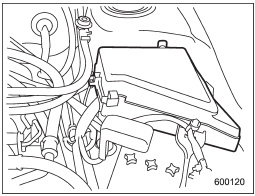 The other one is housed in the engine compartment.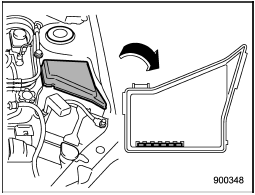 The spare fuses are stored in the main fuse box cover in the engine compartment.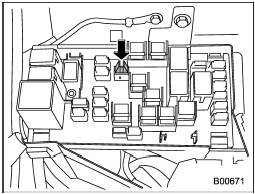 The fuse puller is stored in the main fuse box in the engine compartment.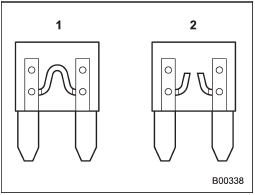 1) Good
2) Blown
If any lights, accessories or other electrical controls do not operate, inspect the corresponding fuse. If a fuse has blown, replace it.
1. Turn the ignition switch to the "LOCK" position and turn off all electrical accessories.
2. Remove the cover.
3. Determine which fuse may be blown.
Look at the back side of each fuse box cover and refer to "Fuses and circuits".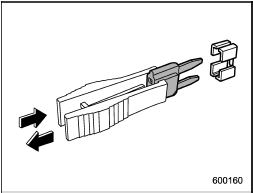 4. Pull out the fuse with the fuse puller.
5. Inspect the fuse. If it has blown, replace it with a spare fuse of the same rating.
6. If the same fuse blows again, this indicates that its system has a problem.
Contact your SUBARU dealer for repairs.
See also:
Driving tips for AWD models
All-Wheel Drive distributes the engine power to all four wheels. AWD models provide better traction when driving on slippery, wet or snow-covered roads and when moving out of mud, dirt and sand. By ...
Vehicle Dynamics Control OFF mode
This mode allows only the ABS control. This mode should be used in an emergency situation such as getting out of snow or mud. When the switch is pressed for more than approximately 3 seconds during ...
To decrease the speed (by the "RES/SET" switch)
Press the "RES/SET" switch to the "SET" side and hold it until the vehicle reaches the desired speed. Then, release the switch. The vehicle speed at that moment will be memorized and treated as ...