Tire rotation

Vehicles equipped with 4 non-unidirectional tires
1) Front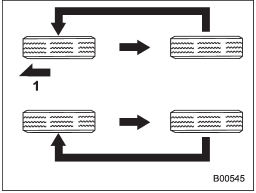 Vehicles equipped with unidirectional tires
1) Front
Tire wear varies from wheel to wheel. To maximize the life of each tire and ensure that the tires wear uniformly, it is best to rotate the tires every 7,500 miles (12,000 km). Move the tires to the positions shown in the illustration each time they are rotated.
Replace any damaged or unevenly worn tires at the time of rotation. After tire rotation, adjust the tires pressures and make sure the wheel nuts are correctly tightened.
After driving approximately 600 miles (1,000 km), check the wheel nuts again and retighten any nut that has become loose.
See also:
Checking the fluid level
The power steering fluid expands greatly as its temperature rises; the fluid level differs according to fluid temperature. Therefore, the reservoir tank has two different checking ranges for hot an ...
Checking the fluid level
WARNING Be careful not to burn yourself because the fluid may be hot. CAUTION ● When power steering fluid is being added, use only clean fluid, and be careful not to allow any dirt into t ...
Volume control
You can adjust the phone call volume, the voice volume and the voice guidance volume. Refer to "Volume control switch" F5-32. Adjustable level of each volume ...