Tire rotation

Vehicles equipped with 4 non-unidirectional tires
1) Front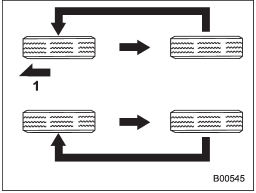 Vehicles equipped with unidirectional tires
1) Front
Tire wear varies from wheel to wheel. To maximize the life of each tire and ensure that the tires wear uniformly, it is best to rotate the tires every 7,500 miles (12,000 km). Move the tires to the positions shown in the illustration each time they are rotated.
Replace any damaged or unevenly worn tires at the time of rotation. After tire rotation, adjust the tires pressures and make sure the wheel nuts are correctly tightened.
After driving approximately 600 miles (1,000 km), check the wheel nuts again and retighten any nut that has become loose.
See also:
Seek in PTY (Program type) group (type A, B and C audio)
Type A and B audio: Type C audio: In the PTY selection mode, when the preferred PTY group has been selected, pressing the УSEEKФ button УФ or УФ seeks within that PTY group. The control f ...
Brake fluid level warning
This light illuminates when the brake fluid level has dropped to near the УMINФ level of the brake fluid reservoir with the ignition switch in the УONФ position and with the parking brake fully releas ...
The Inside
The interior is quiet enough at idle that one time I didn't even realize it was running. That's when I recognized Subaru finally seems to have licked this engine's chronic idle vibration. In this ...