Tire rotation

Vehicles equipped with 4 non-unidirectional tires
1) Front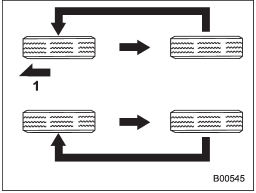 Vehicles equipped with unidirectional tires
1) Front
Tire wear varies from wheel to wheel. To maximize the life of each tire and ensure that the tires wear uniformly, it is best to rotate the tires every 7,500 miles (12,000 km). Move the tires to the positions shown in the illustration each time they are rotated.
Replace any damaged or unevenly worn tires at the time of rotation. After tire rotation, adjust the tires pressures and make sure the wheel nuts are correctly tightened.
After driving approximately 600 miles (1,000 km), check the wheel nuts again and retighten any nut that has become loose.
See also:
Keys
1) Master key (Black) 2) Submaster key (Black) 3) Valet key (Gray) 4) Key number plate 5) Security ID plate Three types of keys are provided for your vehicle: Master key, submaster key and val ...
Legacy
SUBARU does not offer accessory trailer hitches. Consult with a professional hitch supplier to assist you in choosing an appropriate hitch for your vehicle. Be sure to follow all of the hitch manu ...
Engine coolant
NOTE Each quantity indicated here is only a guideline. The necessary quantity for replacement may differ slightly depending on the temperature and other factors. For the checking, adding and ...