Tire rotation

Vehicles equipped with 4 non-unidirectional tires
1) Front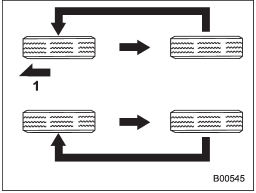 Vehicles equipped with unidirectional tires
1) Front
Tire wear varies from wheel to wheel. To maximize the life of each tire and ensure that the tires wear uniformly, it is best to rotate the tires every 7,500 miles (12,000 km). Move the tires to the positions shown in the illustration each time they are rotated.
Replace any damaged or unevenly worn tires at the time of rotation. After tire rotation, adjust the tires pressures and make sure the wheel nuts are correctly tightened.
After driving approximately 600 miles (1,000 km), check the wheel nuts again and retighten any nut that has become loose.
See also:
Satellite radio reception
Satellite radio signals are best received in areas with a clear view of the open sky. In areas where there are tall buildings, trees, tunnels or other structures that may obstruct the signal of the sa ...
Electronic parking brake system warning
The brake system warning light flashes when the electronic parking brake system is malfunctioning. If the warning light flashes, promptly park in a safe location as soon as possible and contact yo ...
AUTO button
FULL AUTO mode operation: When the УAUTOФ button is pressed, the indicator light УFULL AUTOФ on the display illuminates. In this state, fan speed, airflow distribution, air-inlet control, and ...