Adjusting the front seat shoulder belt anchor height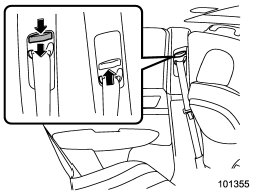 The shoulder belt anchor height should be adjusted to the position best suited for the driver/front passenger. Always adjust the anchor height so that the shoulder belt passes over the middle of the shoulder without touching the neck.
To raise:
Slide the anchor up.
To lower:
Push the release button and slide the anchor down.
Pull down the anchor to make sure that it is locked in place.
WARNING
When wearing the seatbelts, make sure the shoulder portion of the webbing does not pass over your neck. If it does, adjust the seatbelt anchor to a lower position. Placing the shoulder belt over the neck may result in neck injury during sudden braking or in a collision.
See also:
Jump starting
WARNING ● Battery fluid is SULFURIC ACID. Do not let it come in contact with the eyes, skin, clothing or the vehicle. If battery fluid gets on you, thoroughly flush the exposed area with wat ...
System maintenance
NOTE In the event that the vehicle's battery is replaced, discharged or disconnected, it will be necessary to start the vehicle a minimum of one time using the key prior to activating the remote ...
Recommended clutch fluid
Refer to "Fluids". Never use different brands of clutch fluid together. Also, avoid mixing DOT 3 and DOT 4 brake fluids even if they are the same brand. ...