Expectant mothers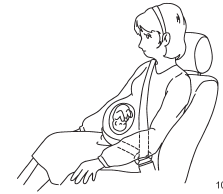 Expectant mothers also need to use the seatbelts. They should consult their doctor for specific recommendations. The lap belt should be worn securely and as low as possible over the hips, not over the waist.
See also:
Low beam light bulbs
Right-hand side 1. Use a screwdriver to undo the clips on the air intake duct, then remove the air intake duct (right-hand side). Left-hand side 2. Use a screwdriver to remove the secured ...
Livability, Continued
Sometimes sport seats sacrifice such things, but this driver's seat has a jack-style height adjustment. There's no cushion angle adjustment, but I was comfortable regardless. A tilt/telescoping st ...
Warranties and maintenance
SUBARU warranties do not apply to vehicle damage or malfunction caused by trailer towing. If you use your vehicle to tow a trailer, more frequent maintenance will be required due to the additi ...