Expectant mothers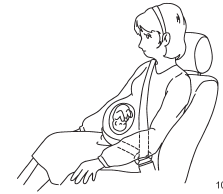 Expectant mothers also need to use the seatbelts. They should consult their doctor for specific recommendations. The lap belt should be worn securely and as low as possible over the hips, not over the waist.
See also:
To increase the speed (by the "RES/ SET" switch)
Press the "RES/SET" switch to the "RES" side and hold it until the vehicle reaches the desired speed. Then, release the switch. The vehicle speed at that moment will be memorized and treated as ...
Seat fabric
Remove loose dirt, dust or debris with a vacuum cleaner. If the dirt is caked on the fabric or hard to remove with a vacuum cleaner, use a soft brush then vacuum it. Wipe the fabric surface with a ...
To turn off the cruise control
There are two ways to turn off the cruise control: ● Press the "CRUISE" main switch button again. ● Turn the ignition switch to the "Acc" or "LOCK" position (but only when the vehicle ...