Expectant mothers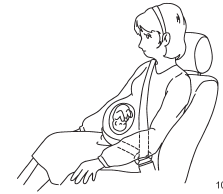 Expectant mothers also need to use the seatbelts. They should consult their doctor for specific recommendations. The lap belt should be worn securely and as low as possible over the hips, not over the waist.
See also:
Recommended grade and viscosity
Each oil manufacturer has its own base oils and additives. Never use different brands together. For details, refer to "Manual transmission, front differential and rear differential gear oil". ...
Active head restraint (if equipped)
Active head restraint (if equipped) The front seats of your vehicle are equipped with active head restraints. They automatically tilt forward slightly in the event the vehicle is struck from the rear ...
Vehicle Dynamics Control warning light
The Vehicle Dynamics Control system provides its ABS control through the electrical circuit of the ABS system. Accordingly, if the ABS is inoperative, the Vehicle Dynamics Control system ...