Rear gate Ц if the rear gate cannot be unlocked
In the event that you cannot unlock the rear gate by operating the power door locking switches or the remote keyless entry system, you can unlock it from inside the cargo area.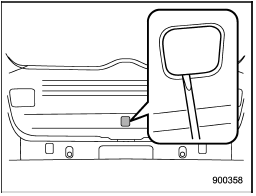 1. Remove the access cover at the bottom-center of the rear gate trim.
2. Locate the rear gate lock release lever behind the rear gate trim panel.

Never operate the rear gate lock release lever with fingers because doing so may cause an injury. Always use a flat-head screwdriver or a similar tool.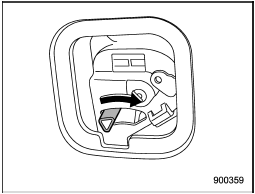 3. To unlock the rear gate, turn the lever to the right position using a flat-head screwdriver or a similar tool.
4. Open the rear gate from outside by raising the rear gate handle.
See also:
Function settings
A SUBARU dealer can change the settings of the functions shown in the following table to meet your personal requirements. Contact the nearest SUBARU dealer for details. If your vehicle is equipped ...
Vanity mirror with light
CAUTION Keep the vanity mirror cover closed while the car is being driven to avoid being blinded by glare. To use the vanity mirror, swing down the sun visor and open the vanity mirror cover. ...
Use of engine braking
Remember to make use of engine braking in addition to foot braking. When descending a grade, if only the foot brake is used, the brakes may start working improperly because of brake fluid overheat ...