Using the cover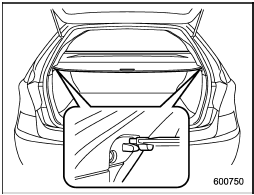 Using the cover
To extend the cover, pull the end of the cover out of the housing, then insert its hooks into the catches as shown. To rewind it, unhook it from the catches and it will rewind automatically. You should hold on to the cover and guide it back into the cover housing while it is rewinding.

Do not place anything on the extended cover. Putting excessive weight on the extended cover can break it and an object on the cover could tumble forward in the event of a sudden stop or collision. This could cause serious injury.

Be careful not to scratch the rear gate stays while extending and rewinding the cover.
Scratches on the stays could cause leakage of gas from the stays, which may result in their inability to hold the rear gate open.
See also:
Choosing a child restraint system
Choose a child restraint system that is appropriate for the childТs age and size (weight and height) in order to provide the child with proper protection. The child restraint system should meet ...
Parking on a grade
Always block the wheels under both vehicle and trailer when parking. Apply the parking brake firmly. You should not park on a hill or slope. But if parking on a hill or slope cannot be avoided ...
Sensor for the auto on/off headlights
The sensor is on the instrument panel as shown in the illustration. CAUTION If any object is placed on or near the sensor, the sensor may not detect the level of the ambient light correctly and ...