Using the cover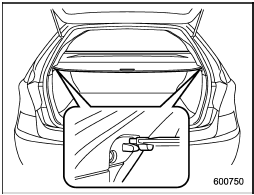 Using the cover
To extend the cover, pull the end of the cover out of the housing, then insert its hooks into the catches as shown. To rewind it, unhook it from the catches and it will rewind automatically. You should hold on to the cover and guide it back into the cover housing while it is rewinding.

Do not place anything on the extended cover. Putting excessive weight on the extended cover can break it and an object on the cover could tumble forward in the event of a sudden stop or collision. This could cause serious injury.

Be careful not to scratch the rear gate stays while extending and rewinding the cover.
Scratches on the stays could cause leakage of gas from the stays, which may result in their inability to hold the rear gate open.
See also:
Precautions against vehicle modification
WARNING To avoid accidental activation of the system or rendering the system inoperative, which may result in serious injury, no modifications should be made to any components or wiring of the SR ...
Changing the oil and oil filter
Change the oil and oil filter according to the maintenance schedule in the "Warranty and Maintenance Booklet". The engine oil and oil filter must be changed more frequently than listed in the mai ...
Making a phone call by saying number
1. Select the top menu (phone menu). 2. Press the talk switch . 3. Say "DIAL BY NUMBER". 4. Press the talk switch again. 5. Say the desired phone number to be called. 6. Select the "DIAL" menu ...