Canada-spec. models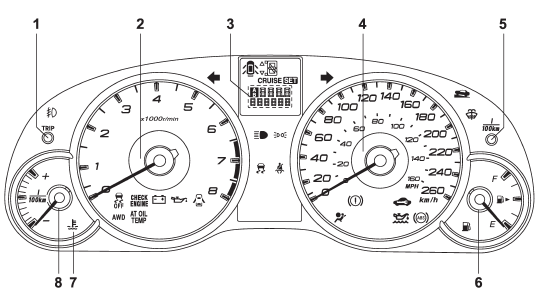 1) Trip meter A/B selection and trip meter reset knob (page 3-6) 2) Tachometer (page 3-7) 3) Trip meter and odometer (page 3-6) 4) Speedometer (page 3-6) 5) Multi function display switching knob (page 3-25) 6) Fuel gauge (page 3-7) 7) Coolant temperature warning/indicator light (page 3-13) 8) ECO gauge (page 3-8)
See also:
Charge warning light
If this light illuminates when the engine is running, it may indicate that the charging system is not working properly. If the light illuminates while driving or does not turn off after the engin ...
Tire pressure monitoring system (TPMS) (if equipped)
The tire pressure monitoring system provides the driver with a warning message by sending a signal from a sensor that is installed in each wheel when tire pressure is severely low. The tire pressure m ...
Refueling
Only one person should be involved in refueling. Do not allow others to approach the area of the vehicle near the fuel filler pipe while refueling is in progress. Be sure to observe any other preca ...