Canada-spec. models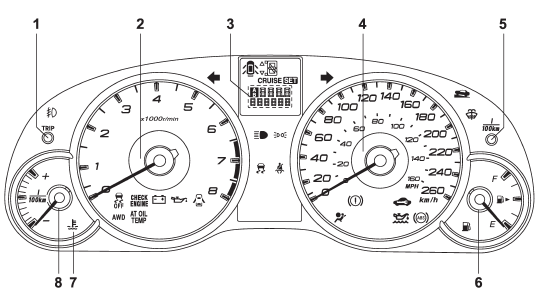 1) Trip meter A/B selection and trip meter reset knob (page 3-6) 2) Tachometer (page 3-7) 3) Trip meter and odometer (page 3-6) 4) Speedometer (page 3-6) 5) Multi function display switching knob (page 3-25) 6) Fuel gauge (page 3-7) 7) Coolant temperature warning/indicator light (page 3-13) 8) ECO gauge (page 3-8)
See also:
Windshield washer fluid warning light
This light illuminates when the fluid level in the windshield washer fluid tank decreases to the lower limit (approximately 0.6 US qt, 0.6 liter, 0.5 Imp qt). ...
Difference between screen and actual road
The distance markers show the distance for a level road when the vehicle is not loaded. It may be different from the actual distance depending on the loading conditions or road conditions. When t ...
Speedometer
The speedometer shows the vehicle speed. ...