Light control and wiper control levers/switches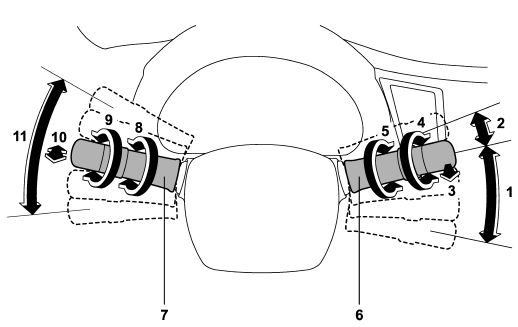 1) Windshield wiper (page 3-31) 2) Mist (page 3-32)
3) Windshield washer (page 3-33) 4) Rear window wiper and washer switch (page 3-34) 5) Wiper intermittent time control switch (page 3-33) 6) Wiper control lever (page 3-32) 7) Light control switch (page 3-27) 8) Front fog light switch (page 3-30) 9) Headlight ON/OFF/AUTO (page 3-28) 10) Headlight flasher High/Low beam change (page 3-28) 11) Turn signal lever (page 3-29)
See also:
Cargo area light (Outback)
1. Remove the lens by prying the edge of the lens with a flat-head screwdriver. 2. Pull the bulb out of the socket. 3. Install a new bulb. 4. Reinstall the lens. ...
Braking tips
WARNING Never rest your foot on the brake pedal while driving. This can cause dangerous overheating of the brakes and needless wear on the brake pads and linings. ...
Installation of accessories
Always consult your SUBARU dealer before installing a citizen band radio or other transmitting device in your vehicle. Such devices may cause the electronic control system to malfunction if the ...