Exterior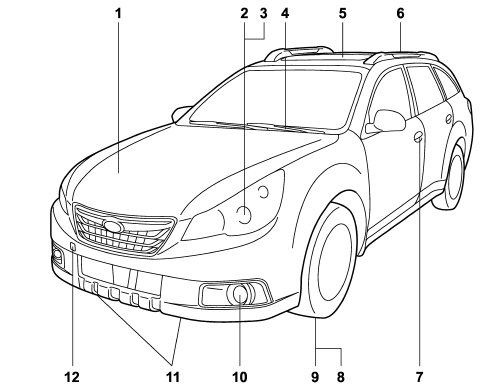 1) Engine hood lock release (page 11-7) 2) Headlight switch (page 3-28) 3) Bulb replacement (page 11-48) 4) Wiper switch (page 3-32) 5) Moonroof (page 2-28)
6) Roof rail (page 8-14) 7) Door locks (page 2-4) 8) Tire pressure (page 11-35) 9) Flat tires (page 9-6) 10) Fog light switch (page 3-30) 11) Tie-down hooks (page 9-13) 12) Towing hook (page 9-12)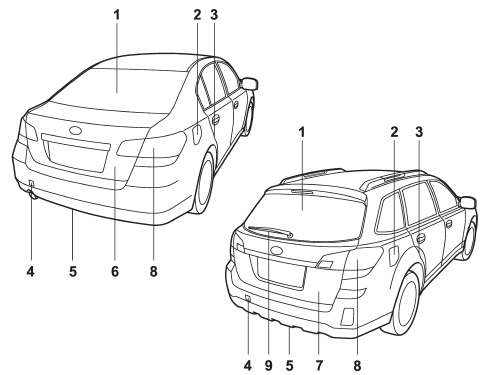 1) Rear window defogger button (page 3-34) 2) Fuel filler lid and cap (page 7-3) 3) Child safety locks (page 2-20) 4) Towing hook (page 9-12) 5) Tie-down hooks (page 9-13) 6) Trunk lid (page 2-24) 7) Rear gate (page 2-26) 8) Bulb replacement (page 11-52) 9) Rear wiper switch (page 3-34)
See also:
Locking the passengers' windows
1) Lock 2) Unlock To lock: Press the lock switch. When the lock switch is in the lock position, the passengers' windows cannot be opened or closed. To unlock: Press the lock switch again. ...
Cooling or dehumidifying
For cooling and dehumidification of the passenger compartment, air flows through the instrument panel outlets: 1. Set the air inlet selection button to the OFF position. 2. Press the "" button. 3 ...
Selecting audible signal operation
Using an electronic chirp, the system will give you an audible signal when the doors lock and unlock. If desired, you may turn the audible signal off. To deactivate the audible signal, perform the ...