Exterior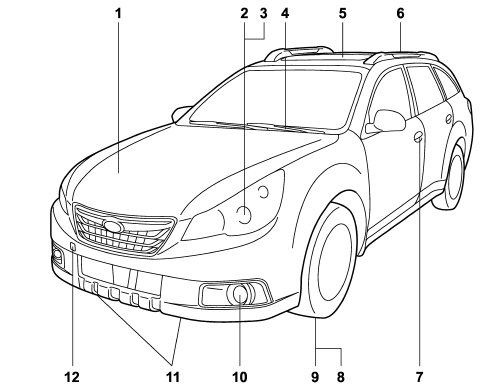 1) Engine hood lock release (page 11-7) 2) Headlight switch (page 3-28) 3) Bulb replacement (page 11-48) 4) Wiper switch (page 3-32) 5) Moonroof (page 2-28)
6) Roof rail (page 8-14) 7) Door locks (page 2-4) 8) Tire pressure (page 11-35) 9) Flat tires (page 9-6) 10) Fog light switch (page 3-30) 11) Tie-down hooks (page 9-13) 12) Towing hook (page 9-12)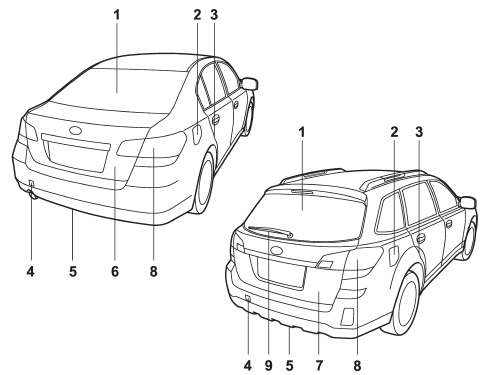 1) Rear window defogger button (page 3-34) 2) Fuel filler lid and cap (page 7-3) 3) Child safety locks (page 2-20) 4) Towing hook (page 9-12) 5) Tie-down hooks (page 9-13) 6) Trunk lid (page 2-24) 7) Rear gate (page 2-26) 8) Bulb replacement (page 11-52) 9) Rear wiper switch (page 3-34)
See also:
Changing the batteries
CAUTION ● Do not let dust, oil or water get on or in the remote engine start transmitter when replacing the battery. ● Be careful not to damage the printed circuit board in the remote ...
To temporarily cancel the cruise control
The cruise control can be temporarily canceled in the following ways. ● Press the "CANCEL" button. ● Depress the brake pedal. ● Depress the clutch pedal (MT models only). χ ...
Tool bag
1) Screwdriver 2) Wheel nut wrench 3) Hex-head wrench (only models with moonroof) 4) Tool bag The screwdriver and wheel nut wrench are stored in the tool bag. ...