Exterior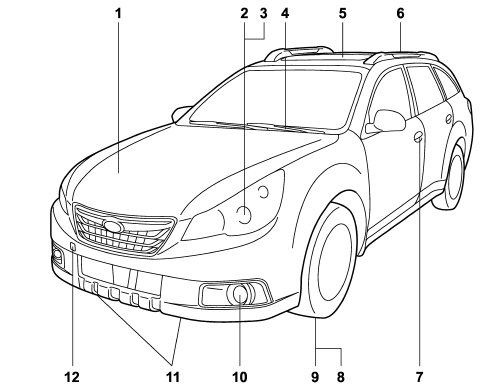 1) Engine hood lock release (page 11-7) 2) Headlight switch (page 3-28) 3) Bulb replacement (page 11-48) 4) Wiper switch (page 3-32) 5) Moonroof (page 2-28)
6) Roof rail (page 8-14) 7) Door locks (page 2-4) 8) Tire pressure (page 11-35) 9) Flat tires (page 9-6) 10) Fog light switch (page 3-30) 11) Tie-down hooks (page 9-13) 12) Towing hook (page 9-12)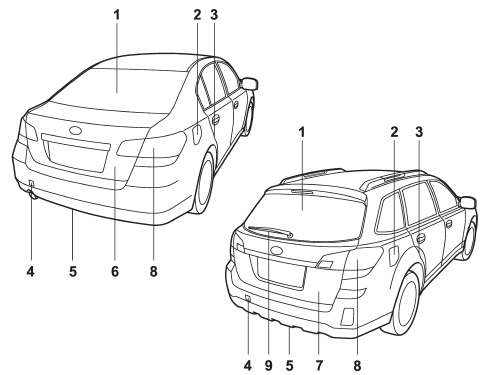 1) Rear window defogger button (page 3-34) 2) Fuel filler lid and cap (page 7-3) 3) Child safety locks (page 2-20) 4) Towing hook (page 9-12) 5) Tie-down hooks (page 9-13) 6) Trunk lid (page 2-24) 7) Rear gate (page 2-26) 8) Bulb replacement (page 11-52) 9) Rear wiper switch (page 3-34)
See also:
Checking the oil level
Check the engine oil level at each fuel stop. 1. Park the vehicle on a level surface and stop the engine. Turbo models Non-turbo models 2. Pull out the level gauge, wipe it clean, and in ...
Front fog light switch (if equipped)
The front fog lights operate under the following conditions. ● when the light switch is in the УФ position ● when the light switch is in the УAUTOФ position and the headlights turn o ...
Operation during cold weather
Carry some emergency equipment, such as a window scraper, a bag of sand, flares, a small shovel and jumper cables. Check the battery and cables. Cold temperatures reduce battery capacity. The batter ...