Exterior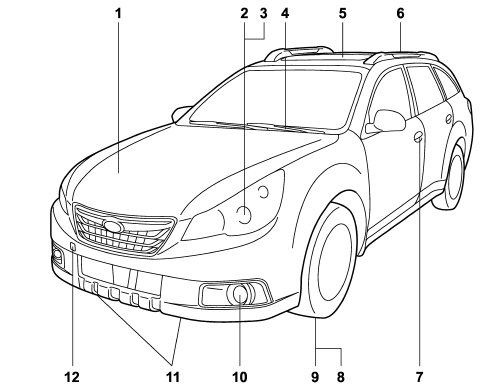 1) Engine hood lock release (page 11-7) 2) Headlight switch (page 3-28) 3) Bulb replacement (page 11-48) 4) Wiper switch (page 3-32) 5) Moonroof (page 2-28)
6) Roof rail (page 8-14) 7) Door locks (page 2-4) 8) Tire pressure (page 11-35) 9) Flat tires (page 9-6) 10) Fog light switch (page 3-30) 11) Tie-down hooks (page 9-13) 12) Towing hook (page 9-12)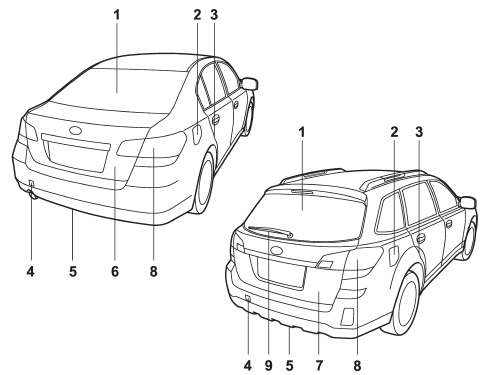 1) Rear window defogger button (page 3-34) 2) Fuel filler lid and cap (page 7-3) 3) Child safety locks (page 2-20) 4) Towing hook (page 9-12) 5) Tie-down hooks (page 9-13) 6) Trunk lid (page 2-24) 7) Rear gate (page 2-26) 8) Bulb replacement (page 11-52) 9) Rear wiper switch (page 3-34)
See also:
Back-up light (5-door)
1. Apply a flat-head screwdriver to the light cover as shown in the illustration, and pry the light cover off from the rear gate trim. 2. Turn the bulb socket counterclockwise and remove it. 3 ...
START
CAUTION Do not turn the ignition switch to the "START" position while the engine is running. The engine is started in this position. The starter cranks the engine to start it. When the key is rele ...
Turbo models
1. Use a screwdriver to undo the clips on the air intake duct, then remove the air intake duct. 1) Connector 2) Clip 2. Unplug the connector that is attached to the top of the air cleane ...