Cooling or dehumidifying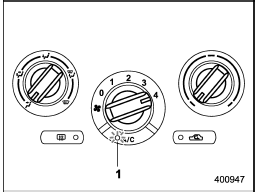 Cooling or dehumidifying
1) ON position
For cooling and dehumidification of the passenger compartment, performing the following steps will allow air to flow through the instrument panel outlets:
1. Set the air inlet selection button to the OFF position.
2. Set the airflow control dial to the "

" position.
3. Set the air conditioner button to the "ON" position.
4. Set the temperature control dial to the blue side.
5. Set the fan speed control dial at the highest speed.
See also:
To select a chapter from its beginning when connecting iPod®
While podcasts or audiobooks are playing, select a chapter in the same way that a track is selected when a CD is played. For details, refer to "To select a track from its beginning". ...
Installation of accessories
Always consult your SUBARU dealer before installing fog lights or any other electrical equipment in your vehicle. Such accessories may cause the electronic system to malfunction if they are incorr ...
Drive belts
It is unnecessary to check the deflection of the drive belt periodically because your engine is equipped with an automatic belt tension adjuster. However, replacement of the belt should be done ac ...