Erasing HomeLink® button memory
NOTE
• Performing this procedure erases the memory of all the preprogrammed buttons simultaneously. The memory of individual buttons cannot be erased.
• It is recommended that upon the sale of the vehicle, the memory of all programmed HomeLink® buttons be erased for security purposes.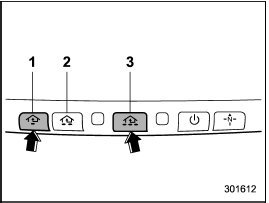 1) HomeLink® button 1
2) HomeLink® button 2
3) HomeLink® button 3
1. Press and hold the two outer buttons (button 1 and button 3) until the indicator light begins to flash (after approximately 20 seconds).
2. Release both buttons.