Erasing HomeLink® button memory
NOTE
• Performing this procedure erases the memory of all the preprogrammed buttons simultaneously. The memory of individual buttons cannot be erased.
• It is recommended that upon the sale of the vehicle, the memory of all programmed HomeLink® buttons be erased for security purposes.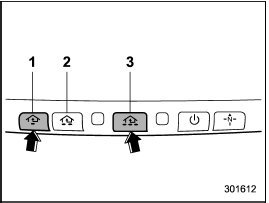 1) HomeLink® button 1
2) HomeLink® button 2
3) HomeLink® button 3
1. Press and hold the two outer buttons (button 1 and button 3) until the indicator light begins to flash (after approximately 20 seconds).
2. Release both buttons.
See also:
While going down a hill
When you are descending a hill or any other slope while braking with the "SPORT" mode selected, the transmission may downshift to 3rd or 2nd gear depending on how hard you depress the brake ...
Indicator lights
Indicator lights When you select the manual mode of the driver's control center differential, the initial limited slip differential (LSD) torque that is currently selected for the center differential ...
Canceling the function for meter/gauge needle movement upon turning on the ignition switch
Type A Type B It is possible to activate or deactivate the movement of the meter needles and gauge needles that takes place when the ignition switch is turned to the "ON" position. 1. T ...