To lock and unlock the trunk lid release lever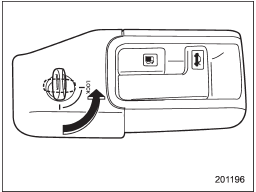 When you entrust your vehicle key to another person, you can lock the trunk lid release lever to prevent luggage in the trunk from being stolen. To lock the trunk lid release lever, insert the master key or submaster key into the key cylinder at the rear of the release lever and turn it counterclockwise. Then, entrust the person with the valet key only. To unlock the trunk lid release lever, turn the key clockwise.
See also:
Safety warnings
You will find a number of WARNINGs, CAUTIONs and NOTEs in this manual. These safety warnings alert you to potential hazards that could result in injury to you or others. Please read these safety war ...
Parking brake
To set the parking brake, depress the brake pedal firmly and hold it down until the parking brake lever is fully pulled up. To release the parking brake, pull the lever up slightly, press t ...
Cruise control set indicator light
The cruise control set indicator light illuminates when the ignition switch is turned to the "ON" position and turns off after approximately 3 seconds. The light illuminates when vehicle speed ha ...