Keys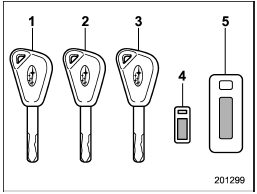 1) Master key (Black)
2) Submaster key (Black)
3) Valet key (Gray)
4) Key number plate
5) Security ID plate
Three types of keys are provided for your vehicle:
Master key, submaster key and valet key.
The master key and submaster key fit all locks on your vehicle.
• Ignition switch
• Driver's door
• Trunk lid release lever (4-door)
• Glove box
The valet key fits only the ignition switch and driver's door lock. You can keep the trunk and glove box locked when you leave your vehicle and valet key at a parking facility.

Do not attach a large key holder or key case to either key. If it bangs against your knees while you are driving, it could turn the ignition switch from the "ON" position to the "Acc" or "LOCK" position, thereby stopping the engine.
See also:
To set cruise control
1. Push the "CRUISE" main switch button. Type A Type B The cruise control indicator light on the combination meter will illuminate. 2. Depress the accelerator pedal until the vehic ...
Behavior with key lock-in prevention function operational
With the driver's door open, the doors are automatically kept unlocked even if the front side of the power door locking switch is pressed. ...
Parking on a grade
Always block the wheels under both vehicle and trailer when parking. Apply the parking brake firmly. You should not park on a hill or slope. But if parking on a hill or slope cannot be avoided ...