Keys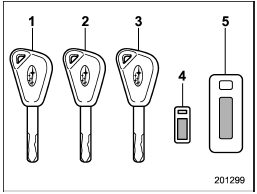 1) Master key (Black)
2) Submaster key (Black)
3) Valet key (Gray)
4) Key number plate
5) Security ID plate
Three types of keys are provided for your vehicle:
Master key, submaster key and valet key.
The master key and submaster key fit all locks on your vehicle.
• Ignition switch
• Driver's door
• Trunk lid release lever (4-door)
• Glove box
The valet key fits only the ignition switch and driver's door lock. You can keep the trunk and glove box locked when you leave your vehicle and valet key at a parking facility.

Do not attach a large key holder or key case to either key. If it bangs against your knees while you are driving, it could turn the ignition switch from the "ON" position to the "Acc" or "LOCK" position, thereby stopping the engine.
See also:
SPORT mode indicator light (AT models)
When the select lever is moved to the manual gate, the SPORT mode is selected and the indicator light illuminates. Refer to "SPORT mode". ...
Windshield wiper blade rubber
1) Support 1. Grasp the locked end of the blade rubber assembly and pull it firmly until the stoppers on the rubber are free of the support. 1) Metal spines 2. If the new blade rubber is ...
If the light is blinking
If the light is blinking while driving, an engine misfire condition has been detected which may damage the emission control system. To prevent serious damage to the emission control system, you sho ...