Bulb chart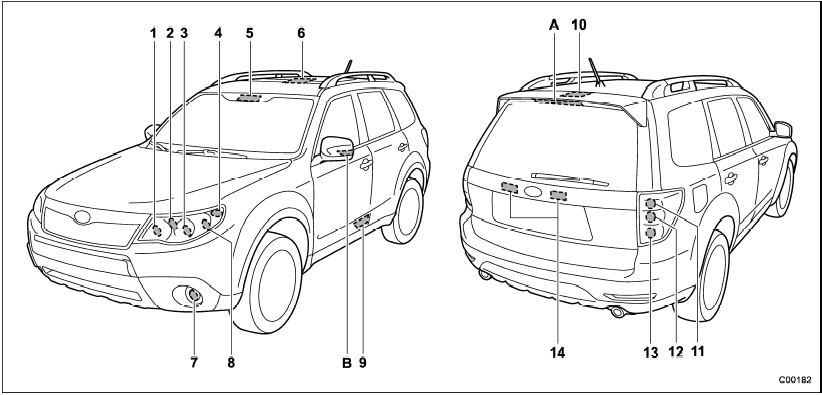 Lights A and B are the LED (Light Emitting Diode) type. Consult your SUBARU dealer for replacement.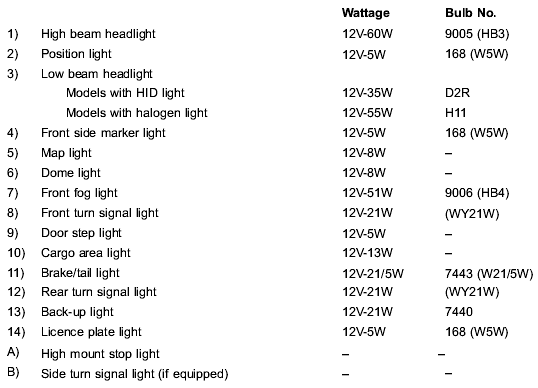 - Bulbs may become very hot while illuminated. Before replacing bulbs, turn off the lights and wait until the bulbs cool down. Otherwise, there is a risk of sustaining a burn injury.
- For models with HID low beam headlights, observe the following precautions. Not doing so carries the risk of an electric shock that could result in serious injury because the HID bulbs use an extremely high voltage.
– Do not replace any headlight bulbs (both low beam and high beam) by yourself.
– Do not remove/restore the headlight assemblies by yourself.
– Do not remove any headlightassembly components by yourself.
For replacement, contact your SUBARU dealer.

Replace any bulb only with a new bulb of the specified wattage. Using a bulb of different wattage could result in a fire.
See also:
Checking the oil level
Non-turbo models 1) Yellow handle Turbo models 1) Yellow handle Check the oil level monthly. 1. Park the vehicle on a level surface and stop the engine. 2. Pull out the level gauge, wipe it ...
Before checking or servicing in the engine compartment
• Always stop the engine and set the parking brake firmly to prevent the vehicle from moving. • Always let the engine cool down. Engine parts become very hot when the engine is running and remai ...
Driving in foreign countries
When planning to use your vehicle in another country: ● Confirm the availability of the correct fuel. Refer to "Fuel requirements" F7-2. ● Comply with all regulations and requirements ...