Windshield wiper blade rubber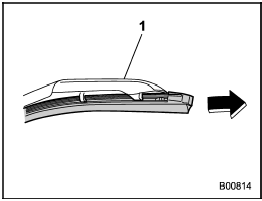 1) Support
1. Grasp the locked end of the blade rubber assembly and pull it firmly until the stoppers on the rubber are free of the support.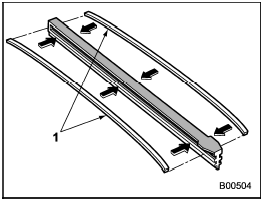 1) Metal spines
2. If the new blade rubber is not provided with two metal spines, remove the metal spines from the old blade rubber and install them in the new blade rubber.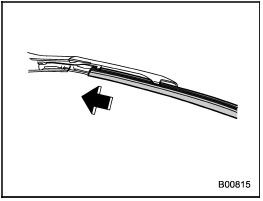 3. Align the claws of the support with the grooves in the rubber and slide the blade rubber assembly into the support until it locks.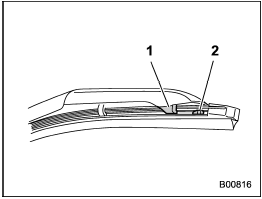 1) Claw
2) Stopper
4. Be sure to position the claws at the end of the support between the stoppers on the rubber as shown. If the rubber is not retained properly, the wiper blade may scratch the windshield.
See also:
Oil pressure warning light
CAUTION Do not operate the engine with the oil pressure warning light on. This may cause serious engine damage. If this light illuminates when the engine is running, it may indicate that the e ...
Checking the brake pedal reserve distance
1) More than 2.56 in (65 mm) Depress the pedal with a force of approximately 66 lbf (294 N, 30 kgf) and measure the distance between the upper surface of the pedal pad and the floor. When the meas ...
If no steam is coming from the engine compartment
NOTE For details about how to check the coolant level or how to add coolant, refer to "Engine coolant" F11-17. 1. Keep the engine running at idling speed. 2. Open the hood to ventilate the engine ...