Windshield wiper blade rubber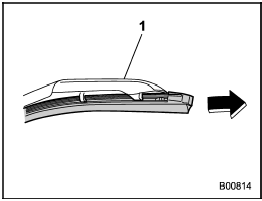 1) Support
1. Grasp the locked end of the blade rubber assembly and pull it firmly until the stoppers on the rubber are free of the support.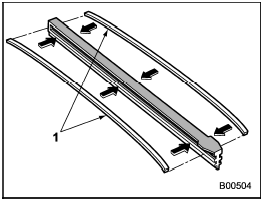 1) Metal spines
2. If the new blade rubber is not provided with two metal spines, remove the metal spines from the old blade rubber and install them in the new blade rubber.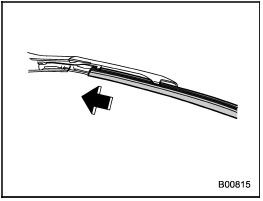 3. Align the claws of the support with the grooves in the rubber and slide the blade rubber assembly into the support until it locks.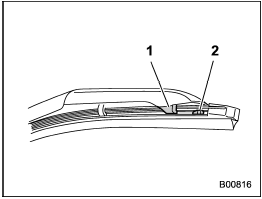 1) Claw
2) Stopper
4. Be sure to position the claws at the end of the support between the stoppers on the rubber as shown. If the rubber is not retained properly, the wiper blade may scratch the windshield.
See also:
Seatbelt and SRS airbag
- All persons in the vehicle should fasten their seatbelts BEFORE the vehicle starts to move. Otherwise, the possibility of serious injury becomes greater in the event of a sudden stop o ...
Oil pressure warning light
CAUTION Do not operate the engine with the oil pressure warning light on. This may cause serious engine damage. If this light illuminates when the engine is running, it may indicate that the e ...
Cargo area light (5-door models)
ON position: The light illuminates when the rear gate is opened. The light remains illuminated for several seconds and gradually turns off after the rear gate is closed. OFF position: The light rem ...