Windshield wiper blade rubber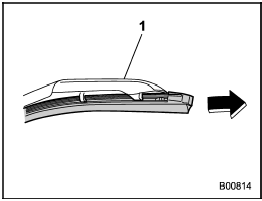 1) Support
1. Grasp the locked end of the blade rubber assembly and pull it firmly until the stoppers on the rubber are free of the support.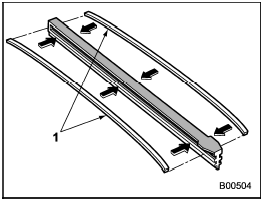 1) Metal spines
2. If the new blade rubber is not provided with two metal spines, remove the metal spines from the old blade rubber and install them in the new blade rubber.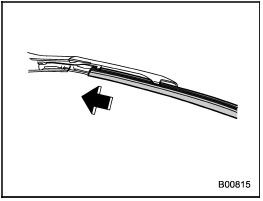 3. Align the claws of the support with the grooves in the rubber and slide the blade rubber assembly into the support until it locks.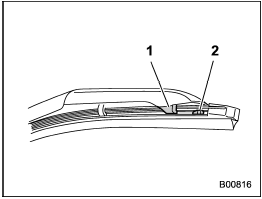 1) Claw
2) Stopper
4. Be sure to position the claws at the end of the support between the stoppers on the rubber as shown. If the rubber is not retained properly, the wiper blade may scratch the windshield.
See also:
Seatbelt warning light and chime
Your vehicle is equipped with a seatbelt warning device at the driver's and front passenger's seat, as required by current safety standards. With the ignition switch turned to the "ON" position, th ...
To help prevent corrosion
Wash the vehicle regularly to prevent corrosion of the body and suspension components. Also, wash the vehicle promptly after driving on any of the following surfaces. ● roads that have been s ...
On-road and off-road driving
This vehicle is classified as a utility vehicle. Utility vehicles have a significantly higher rollover rate than other types of vehicles. Your vehicle has a higher ground clearance and higher ...