Checking the coolant level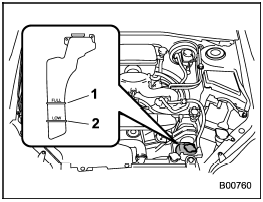 Checking the coolant level
1) "FULL" level mark
2) "LOW" level mark
Check the coolant level at each fuel stop.
1. Check the coolant level on the outside of the reservoir while the engine is cool.
2. If the level is close to or lower than the "LOW" level mark, add coolant up to the "FULL" level mark. If the reserve tank is empty, remove the radiator cap and refill as required.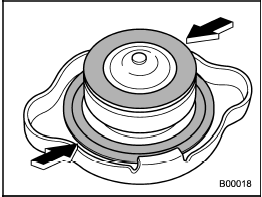 3. After refilling the reserve tank and the radiator, reinstall the caps and check that the rubber gaskets inside the radiator cap are in the proper position.

- Be careful not to spill engine coolant when adding it. If coolant touches the exhaust pipe, it may cause a bad smell, smoke, and/or a fire. If engine coolant gets on the exhaust pipe, be sure to wipe it off.
- Do not splash the engine coolant over painted parts. The alcohol contained in the engine coolant may damage the paint surface.
See also:
Rear seatbelts (except rear center seatbelt)
1. Sit well back in the seat. 2. Pick up the tongue plate and pull the belt out slowly. Do not let it get twisted. If the belt stops before reaching the buckle, return the belt slightly and pul ...
Installation of accessories
Always consult your SUBARU dealer before installing fog lights or any other electrical equipment in your vehicle. Such accessories may cause the electronic system to malfunction if they are incorr ...
Compass calibration
1. If a "C" is displayed in the compass window, the compass needs to be calibrated. 2. Drive the vehicle in a circle at 5 mph (8 km/h) or less until the display reads a direction. 3. You can also ...