Checking the coolant level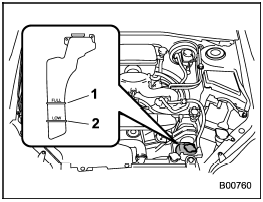 Checking the coolant level
1) "FULL" level mark
2) "LOW" level mark
Check the coolant level at each fuel stop.
1. Check the coolant level on the outside of the reservoir while the engine is cool.
2. If the level is close to or lower than the "LOW" level mark, add coolant up to the "FULL" level mark. If the reserve tank is empty, remove the radiator cap and refill as required.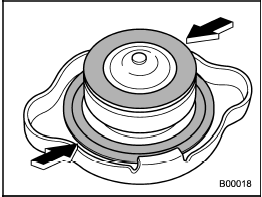 3. After refilling the reserve tank and the radiator, reinstall the caps and check that the rubber gaskets inside the radiator cap are in the proper position.

- Be careful not to spill engine coolant when adding it. If coolant touches the exhaust pipe, it may cause a bad smell, smoke, and/or a fire. If engine coolant gets on the exhaust pipe, be sure to wipe it off.
- Do not splash the engine coolant over painted parts. The alcohol contained in the engine coolant may damage the paint surface.
See also:
Deleting the speed dial
1. Select the "DEL SPD DIAL"/"DELETE SPEED DIAL" menu. 2. Press the preset button (from to ) in which you want to delete the speed dial. 3. Select the "CONFIRM" menu. Then "DELETED" is d ...
Compass calibration
1. If a "C" is displayed in the compass window, the compass needs to be calibrated. 2. Drive the vehicle in a circle at 5 mph (8 km/h) or less until the display reads a direction. 3. You can also ca ...
Steps to take if EBD system malfunctions
If a malfunction occurs in the EBD system, the system stops working and the brake system warning light and ABS warning light illuminate simultaneously. The EBD system may be malfunctioning if the ...