Bottle holders

- Do not pick up a bottle from the bottle holder or put a bottle in the holder while you are driving, as this may distract you and lead to an accident.
- When placing a beverage in a door pocket, make sure it is capped. Otherwise, the beverage could spill when opening/closing the door or while driving and, if the beverage is hot, it could scald you.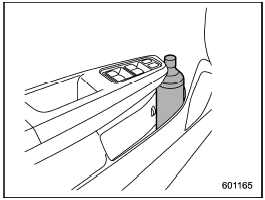 The door pocket equipped on each door trim can be used to hold beverage bottles and other items.
See also:
LOCK
The key can only be inserted or removed in this position. The ignition switch will lock the steering wheel when you remove the key. If turning the key is difficult, turn the steering wheel slightly ...
Difference between screen and actual road
The distance markers show the distance for a level road when the vehicle is not loaded. It may be different from the actual distance depending on the loading conditions or road conditions. When t ...
When you do not tow a trailer
- Remove the ball mount from the hitch receiver tube and insert the receiver cover onto the hitch receiver tube. - Place the dust cap over the four-pin connector of the hitch wire harness to ...