MODE button

Models without Hands-free system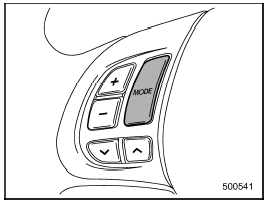 Models with Hands-free system
The УMODEФ button is used to select the desired audio mode. Each time it is pressed, the mode changes to the next one in the following sequence:
Type A and B audio:

Type C and D audio:

*1: The frequency last received in the selected waveband will be displayed.
*2: Only when a CD is in the player.
*3: Only when the device is connected.