Category selection
Type A, B and C audio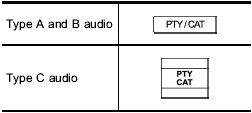 To activate the category search mode, press the "PTY/CAT" button. To deactivate the category search mode, press the "PTY/CAT" button again.
When in the category search mode, press the following button to change the category up or down.
Type A and B audio:

Type C audio:

When a category is selected, turning the "TUNE/TRACK/CH" dial selects channels only within the selected category.
The control function returns to the normal mode after approximately 10 seconds.
See also:
Low fuel warning light
The low fuel warning light illuminates when the fuel tank is nearly empty. It only operates when the ignition switch is in the "ON" position. When this light illuminates, fill the fuel tank immedi ...
Traction AA, A, B, C
The traction grades, from highest to lowest, are AA, A, B and C. Those grades represent the tire's ability to stop on wet pavement as measured under controlled conditions on specified government test ...
Behavior with key lock-in prevention function operational
With the driver's door open, the doors are automatically kept unlocked even if the front side of the power door locking switch is pressed. ...