HD RadioTM Technology (Digital AM and FM Radio) (type D audio)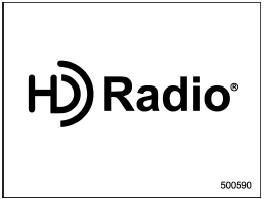 HD Radio Technology is fueling the digital radio revolution in the United States and around the world.
The digital technology enables broadcasters to offer new and unique FM content via HD2 / HD3 channels, crystal-clear sound and data services on both AM and FM bands - all free, with no subscription fee.
HD RadioTM Technology Manufactured Under License From iBiquity Digital Corp.
U.S. and Foreign Patents. HD RadioTM and the HD Radio logo are proprietary trademarks of iBiquity Digital Corp.
For more information, visit www.hdradio.
com.
Press the

button while receiving the FM radio (except analog broadcast). The next channel of the station that is being received will be received.
See also:
Activating and deactivating the alarm system
To change the setting of your vehicle's alarm system for activation or deactivation, do the following. 1. Disarm the alarm system. Refer to "Disarming the system" F2-18. 2. Sit in the driver's sea ...
Car phone/cell phone and driving
CAUTION Do not use a car phone/cell phone while driving; it may distract your attention from driving and can lead to an accident. If you use a car phone/cell phone, pull off the road and park in ...
Ashtray (if equipped)
- Do not use ashtrays as waste receptacles or leave a lighted cigarette in an ashtray. This could cause a fire. - Always extinguish matches and cigarettes before putting them into the a ...