HD RadioTM Technology (Digital AM and FM Radio) (type D audio)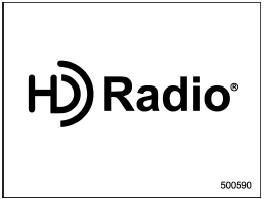 HD Radio Technology is fueling the digital radio revolution in the United States and around the world.
The digital technology enables broadcasters to offer new and unique FM content via HD2 / HD3 channels, crystal-clear sound and data services on both AM and FM bands - all free, with no subscription fee.
HD RadioTM Technology Manufactured Under License From iBiquity Digital Corp.
U.S. and Foreign Patents. HD RadioTM and the HD Radio logo are proprietary trademarks of iBiquity Digital Corp.
For more information, visit www.hdradio.
com.
Press the

button while receiving the FM radio (except analog broadcast). The next channel of the station that is being received will be received.
See also:
Type A
1. Raise the wiper arm off the windshield. 1) Stopper 2. Remove the wiper blade assembly by holding its pivot area and pushing it in the direction shown by the arrow while depressing the wiper bla ...
Driving on grades
● Before going down a steep hill, slow down and shift into lower gear (if necessary, use 1st gear) in order to utilize the overheating of your vehicle's brakes. Do not make sudden downshifts ...
Unleaded gasoline
The neck of the fuel filler pipe is designed to accept only an unleaded gasoline filler nozzle. Under no circumstances should leaded gasoline be used because it will damage the emission contro ...