HD RadioTM Technology (Digital AM and FM Radio) (type D audio)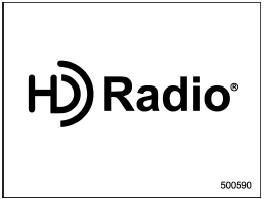 HD Radio Technology is fueling the digital radio revolution in the United States and around the world.
The digital technology enables broadcasters to offer new and unique FM content via HD2 / HD3 channels, crystal-clear sound and data services on both AM and FM bands - all free, with no subscription fee.
HD RadioTM Technology Manufactured Under License From iBiquity Digital Corp.
U.S. and Foreign Patents. HD RadioTM and the HD Radio logo are proprietary trademarks of iBiquity Digital Corp.
For more information, visit www.hdradio.
com.
Press the

button while receiving the FM radio (except analog broadcast). The next channel of the station that is being received will be received.
See also:
Turn signal indicator lights
These lights show the operation of the turn signal or lane change signal. If the indicator lights do not blink or blink rapidly, the turn signal bulb may be burned out. Replace the bulb as soon a ...
Seat cushion height adjustment (driver's seat)
Seat cushion height adjustment (driver's seat) 1) When the lever is pushed down, the seat is lowered. 2) When the lever is pulled up, the seat rises. The height of the seat can be adjusted by ...
Other markings
The following makings are also placed on the sidewall. ...