Garage door opener programming in the U.S.A.
NOTE
When programming the HomeLink® Wireless Control System for a garage door opener, it is suggested that you park the vehicle outside the garage.
1. Unplug the motor of the garage door opener from the outlet.
NOTE
If any of the HomeLink® buttons are already programmed for other devices, skip step 2 because it clears the memory of all three buttons.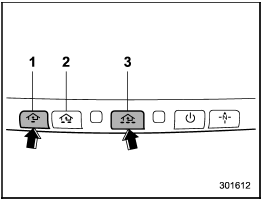 1) HomeLink® button 1
2) HomeLink® button 2
3) HomeLink® button 3
2. Press and hold the two outer HomeLink® buttons (button 1 and button 3) until the indicator light begins to flash (after approximately 20 seconds). Then release both buttons.
3. Hold the end of the garage door opener's hand-held transmitter between 1 and 3 inches (25 and 76 mm) away from the HomeLink® button you wish to program.
4. Simultaneously press and hold both the hand-held transmitter button and the desired HomeLink® button. DO NOT release the buttons until step 5 has been completed.
NOTE
Some gate operators and garage door openers may require you to replace this programming step 4 with procedures in "Programming for entrance gates and garage door openers in Canada".
5. Hold down both buttons until the HomeLink® indicator light flashes, first slowly then rapidly. When the indicator light flashes rapidly, both buttons may be released. (The rapidly flashing light indicates successful programming of the new frequency signal.) 6. Press and hold the programmed button and check the HomeLink® indicator light. If the indicator light stays on continuously, your garage door should activate and the programming is completed.
If the indicator light flashes rapidly for 2 seconds and then stays on continuously, your garage door opener may be protected by a rolling code feature. In this case you need to perform the additional steps that are described in "Programming rolling-code-protected garage door openers in the U.S.A.".
See also:
Precautions against vehicle modification
WARNING To avoid accidental activation of the system or rendering the system inoperative, which may result in serious injury, no modifications should be made to any components or wiring of the SR ...
Quick With the Six
The Outback's base engine — a 170-horsepower four-cylinder — delivers leisurely acceleration, in large part because of a continuously variable automatic transmission that's in no hurry to respond ...
Passive arming
When passive arming mode has been programmed by the dealer, arming of the system is automatically accomplished without using the remote transmitter. Note that in this mode, DOORS MUST BE MAN ...