Illumination brightness control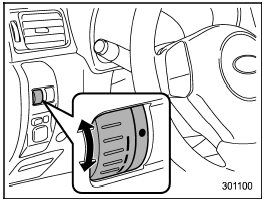 Illumination brightness control
The brightness of clock display, audio, air conditioner, information display and instrument panel illumination dims when the light switch is in the "

" or "

" positions. You can adjust brightness of the instrument panel illumination for better visibility.
To brighten, turn the control dial upward.
To darken, turn the control dial downward.
NOTE
When the control dial is turned fully upward, the illumination brightness becomes the maximum and the automatic dimming function does not work at all.