Vehicle identification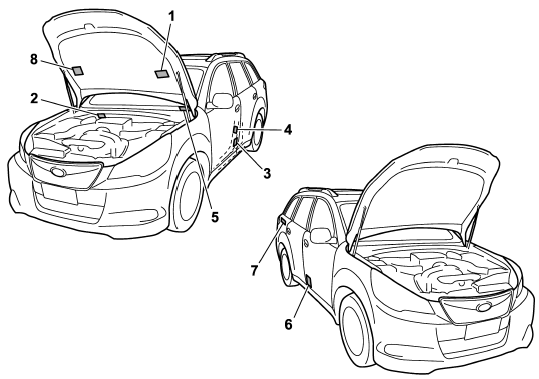 1) Emission control label 2) Vehicle identification number 3) Certification and bar code label 4) Tire inflation pressure label 5) Vehicle identification number plate 6) Model number label
7) Fuel label
8) Air conditioner label
See also:
Locking the passengers' windows
1) Lock 2) Unlock To lock: Press the lock switch. When the lock switch is in the lock position, the passengers' windows cannot be opened or closed. To unlock: Press the lock switch again. ...
Random playback
Type A audio Type B audio To play back a track/file(s) at random, press the "RPT/RDM" button for 0.5 second or longer (type A audio) or press the "RDM" button (type B audio). ● For type ...
Stereo indicator
The stereo indicator "ST" (type A, B and C audio)/"STEREO" (type D audio) will illuminate when an FM stereo broadcast is received. ...