High beam light bulbs
1. Remove the air intake duct (right-hand side). For the method to remove the air intake duct, refer to "Removing air intake duct" F11-7.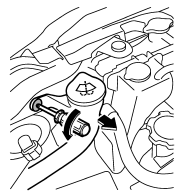 Left-hand side
2. Use a screwdriver to remove the secured clip of the washer tank. To make it easy to access the bulb, move the washer tank to the horizontal direction (left-hand side).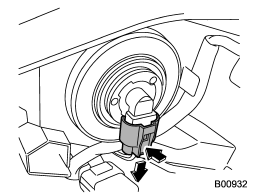 3. Disconnect the electrical connector from the bulb.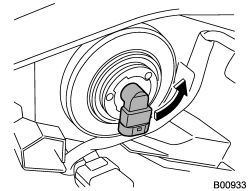 4. Remove the bulb from the headlight assembly by turning it counterclockwise.
5. Replace the bulb with new one. At this time, use care not to touch the bulb surface.
6. Reconnect the electrical connector.
7. To install the bulb to the headlight assembly, turn it clockwise until it clicks.
8. Install the air intake duct with clips (right-hand side).
9. Set the washer tank to the original place and secure it by clip (left-hand side).
See also:
R (Reverse)
This position is for backing the vehicle. To shift from the "N" to "R" position, stop the vehicle completely then move the lever to the "R" position. ...
Uniform Tire Quality Grading (UTQG)
For details, refer to "Uniform tire quality grading standards". ...
Tire labeling
Many markings (e.g. Tire size, Tire Identification Number or TIN) are placed on the sidewall of a tire by tire manufacturers. These markings can provide you with useful information on the ti ...