High beam light bulbs
1. Remove the air intake duct (right-hand side). For the method to remove the air intake duct, refer to "Removing air intake duct" F11-7.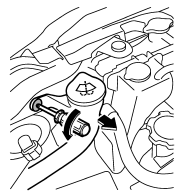 Left-hand side
2. Use a screwdriver to remove the secured clip of the washer tank. To make it easy to access the bulb, move the washer tank to the horizontal direction (left-hand side).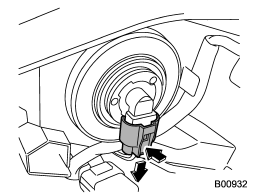 3. Disconnect the electrical connector from the bulb.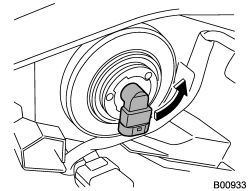 4. Remove the bulb from the headlight assembly by turning it counterclockwise.
5. Replace the bulb with new one. At this time, use care not to touch the bulb surface.
6. Reconnect the electrical connector.
7. To install the bulb to the headlight assembly, turn it clockwise until it clicks.
8. Install the air intake duct with clips (right-hand side).
9. Set the washer tank to the original place and secure it by clip (left-hand side).
See also:
Fuel
CAUTION Use of a fuel which is low in quality or use of an inappropriate fuel additive may cause engine damage. ...
Locking and unlocking from the outside
NOTE If you unlock the driver's door with a key and open the door while the alarm system is armed, the alarm system is triggered and the vehicle's horn sounds. In this case, perform any of ...
Behavior with key lock-in prevention function non-operational
● If the lock lever is turned to the rear ("LOCK") position with the driver's door open and the driver's door is then closed with the lock lever in that position, the driver's door is locked ...