High beam light bulbs
1. Remove the air intake duct (right-hand side). For the method to remove the air intake duct, refer to "Removing air intake duct" F11-7.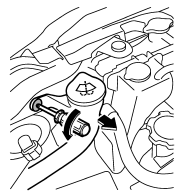 Left-hand side
2. Use a screwdriver to remove the secured clip of the washer tank. To make it easy to access the bulb, move the washer tank to the horizontal direction (left-hand side).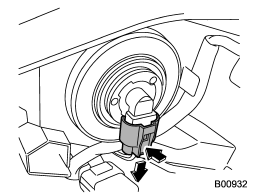 3. Disconnect the electrical connector from the bulb.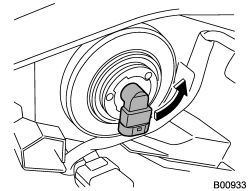 4. Remove the bulb from the headlight assembly by turning it counterclockwise.
5. Replace the bulb with new one. At this time, use care not to touch the bulb surface.
6. Reconnect the electrical connector.
7. To install the bulb to the headlight assembly, turn it clockwise until it clicks.
8. Install the air intake duct with clips (right-hand side).
9. Set the washer tank to the original place and secure it by clip (left-hand side).
See also:
Page scroll
If the registered name or phone number has more than 12 characters, press the "TEXT" button for more than 1.5 seconds to scroll the name or phone number. ...
Air conditioner compressor shut-off when engine is heavily loaded
To improve acceleration and gas mileage, the air conditioner compressor is designed to temporarily shut off during air conditioner operation whenever the accelerator is fully depressed such as ...
Random playback
To playback a track/index/file(s) at random, press the "RPT/RDM" button for 0.5 second or longer while the track/index/file is playing. Each time you press the button, the mode changes in the follo ...