High beam light bulbs
1. Remove the air intake duct (right-hand side). For the method to remove the air intake duct, refer to "Removing air intake duct" F11-7.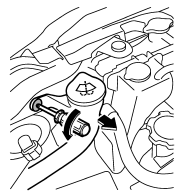 Left-hand side
2. Use a screwdriver to remove the secured clip of the washer tank. To make it easy to access the bulb, move the washer tank to the horizontal direction (left-hand side).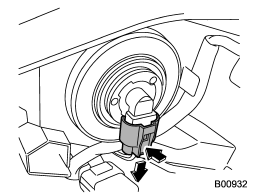 3. Disconnect the electrical connector from the bulb.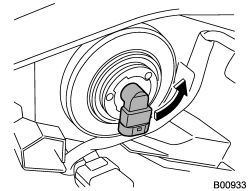 4. Remove the bulb from the headlight assembly by turning it counterclockwise.
5. Replace the bulb with new one. At this time, use care not to touch the bulb surface.
6. Reconnect the electrical connector.
7. To install the bulb to the headlight assembly, turn it clockwise until it clicks.
8. Install the air intake duct with clips (right-hand side).
9. Set the washer tank to the original place and secure it by clip (left-hand side).
See also:
Shift-up indicator light (STI)
While selecting the Intelligent (I) mode of SI-DRIVE, this indicator light illuminates and informs the driver about the upshift timing for fuel-efficient driving. ...
Printed antenna
CAUTION Do not use sharp instruments or window cleaner containing abrasives to clean the inner surface of the window on which the antenna is printed. Doing so may damage the antenna printed on th ...
Windshield washer fluid
If you spray washer fluid on the windshield but the supply of washer fluid appears to diminish, check the level of washer fluid in the tank. Washer fluid level gauge Remove the washer tank fill ...