High beam light bulbs
1. Remove the air intake duct (right-hand side). For the method to remove the air intake duct, refer to "Removing air intake duct" F11-7.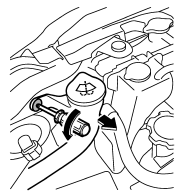 Left-hand side
2. Use a screwdriver to remove the secured clip of the washer tank. To make it easy to access the bulb, move the washer tank to the horizontal direction (left-hand side).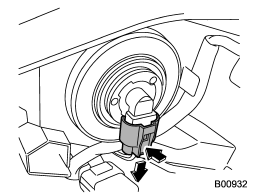 3. Disconnect the electrical connector from the bulb.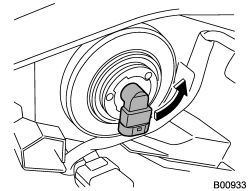 4. Remove the bulb from the headlight assembly by turning it counterclockwise.
5. Replace the bulb with new one. At this time, use care not to touch the bulb surface.
6. Reconnect the electrical connector.
7. To install the bulb to the headlight assembly, turn it clockwise until it clicks.
8. Install the air intake duct with clips (right-hand side).
9. Set the washer tank to the original place and secure it by clip (left-hand side).
See also:
Selecting device
1. Select the "SELECT AUDIO" menu by operating the "TUNE/TRACK/CH" dial. If no devices are registered, "EMPTY" is displayed and the mode changes to the Bluetooth® audio setting mode. 2. Select the "C ...
Wiper and washer
In freezing weather, do not use the windshield washer until the windshield is sufficiently warmed by the defroster. Otherwise the washer fluid can freeze on the windshield, blocking your view. ...
4-door models
1. Remove the clip from the rear trunk trim with a screwdriver. 2. Open the rear portion of the side trunk trim panel. 1) Brake/tail and rear side marker light 2) Rear turn signal light 3) Bac ...